Dr. Rios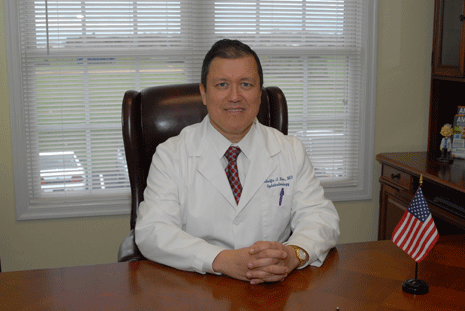 A team is only as strong as its leader, and we've got one of the finest in the Delmarva region. Dr. Rodolfo Rios, Medical Director of Atlantic Eye Care, has been practicing Ophthalmology for over 20 years.
He completed his Ophthalmology Residency at Harlem Hospital Center in affiliation with The College of Physicians & Surgeons of Columbia University in New York City, where he also completed Clinical Fellowships in Neuro-Ophthalmology and Vitreo-Retina. Dr. Rios also completed a residency program in Comprehensive Ophthalmology in Peru before moving to the United States. Over the course of his career Dr. Rios has successfully performed countless cataract surgeries, intraocular implants, and laser procedures while establishing Atlantic Eye Care as a leading provider of ophthalmologic services in Delaware.
The staff at Atlantic Eye Care is proud to support Dr. Rios in his efforts to provide superior care at their Lewes location. Our staff is recognized for their professionalism, compassion, and superior customer service.
Click here to read an article written in the Cape Gazette about Dr. Rios (PDF)